I recently responded to a post on the Pro Tools Forum regarding interfaces with a lot of inputs. Generally, the responses focus on your typical Focusrite, RME, etc with ADAT. The thing is – the price can get really high very quickly when you're talking about good quality interfaces + expansion and it reminded me that there's a little niche of small format mixers out there that actually do a pretty decent job that shouldn't be discount – especially when you're on a budget and you want a lot of inputs.
The "interfaces" I'm going to discuss are typically aimed at smaller performing bands – the major selling point is that they have a low foot print, and they're iPad controlled. But, pretty much every mixer these days also has some kind of USB interface section built in, and this makes them a major contender for our attention.
Let me discuss a couple in turn.
Behringer X-Air 12 / 16 / 18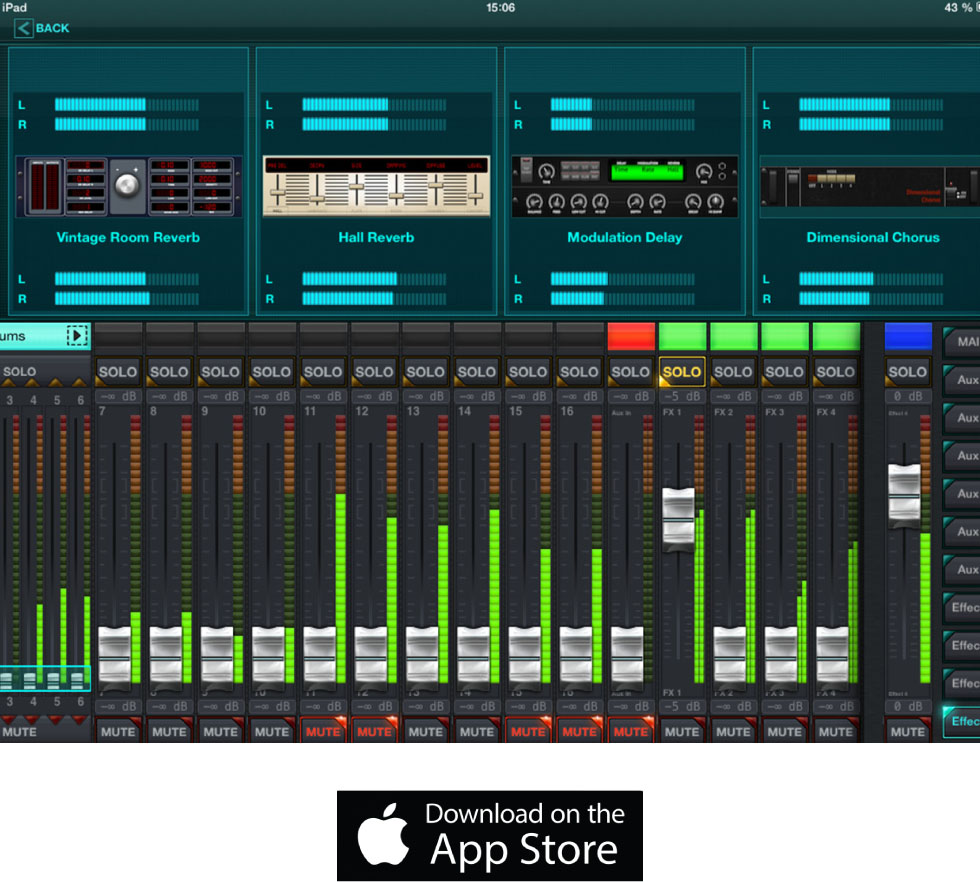 For £370 (Amazon as of the date of publishing) Behringer's X-Air XR18 is a great place to start. For the price of an 8 Channel Focusrite or Presonus interface, you'll get this:

• 18 Channels of input – 16 XLR Combi and 2 TRS Line in (For the XR18, the channels will obviously reduce as the models reduce)
• 8 Outputs – 2 Main outs and 6 mono Aux outputs
• 1 Port of MIDI IO
• 44.1 or 48kHz sample rate
• USB 2.0 connectivity
The quality is fair. I bought this to power my function band EverClare for a number of years, and it even powered dS:uK – Tribute to Dire Straits for the first year of 'test' gigs before the band achieved theatres. While I owned it for the bands, I also used it as a mobile recording system for on location recording. It's highly capable and sounds 'fine'.
If you're going to hold a Behringer up against a Focusrite, Presonus, RME, etc unit, you're likely to notice the difference (the MIDAS pres aren't the sexy beasts that Behringer claim they are!) – but if you're in the type of person or musician who is doing this type of comparison, and can hear the difference, then this article isn't exactly aimed at you!!
But if you're a musician into recording – and especially if you play live and you can dual purpose this unit – then you're going to get massive bang for your buck as a mass IO recording interface.
A word about the WiFI
Despite the fact that this is wireless mixer that supposed to have a iPad connected to it wirelessly – the WiFi isn't the best. In fact, most users of units like this will buy a better quality WiFi router to connect to it, which it allows. And it's also sensible to have a laptop on standby to hardwire for when your wireless guitar systems get in the way. There's little more frustrating that trying to adjust your FOH, foldback or IEM and the iPad refuses to connect.
Midas MR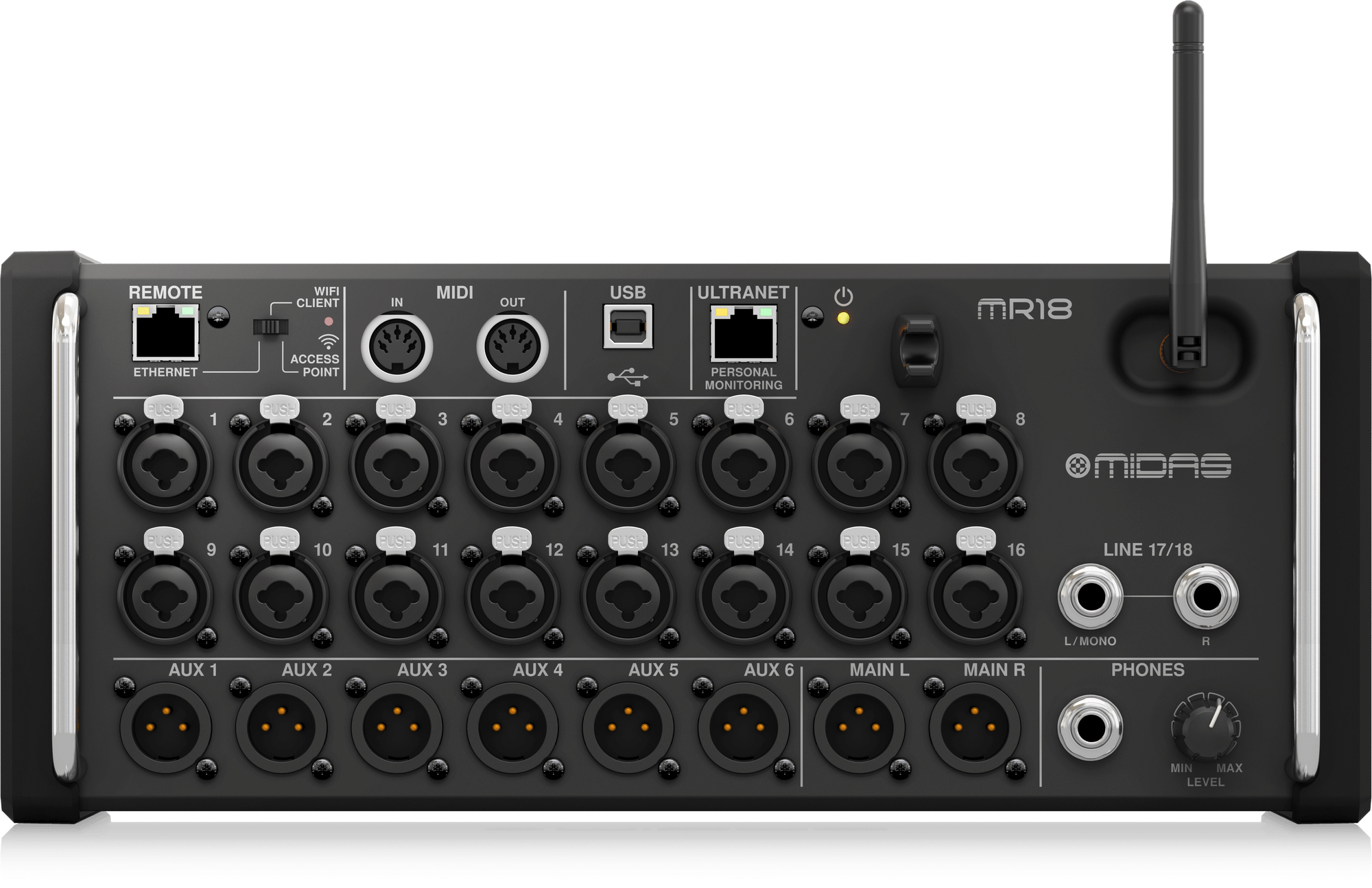 If the Midas MR18 looks familiar – it is. Just look above!
These are practically the same units and it's quite obvious that Midas went off on their own and market the unit themselves. The history is beyond the scope of this article – my intention is just to bring these to your attention but if you want a deeper dive into the differences, Raymond Ainyam produced a really good comparison article at geekmusician.com.
He concludes that the MR is a slightly better offering, but at a slightly higher price compared to the X-Air series although the MR series tops out at 16 channels so Behringer does still have that edge if the extra 2 channels of input are important to you.
DAWs, Mixers and Signal Flow
The only major thing to be aware of with using Mixers as interfaces is how the signal flow works with regards to outputs. When we're using regular interfaces, the DAWs address the physical outputs of the unit and allow us to route out audio signal out via your chosen output.
When you're using mixers, the DAWs don't address the outputs on the unit (the 2 outs and 6 Aux's in the case of the XR18) – the DAW sees each of the channels as outputs. As an example – when I'm using my Presonus SL32 as the Playback Engine in Pro Tools, I route the DAW output back to Channels 31-32, which need to be at 0dB and the master fader up for the signal to be sent to my monitors.
It's confusing at first, but you do get your head around it!
Viable option
So – for musicians looking for a high input count without breaking the bank, these guys are suitable options. You're not going to get the pristine pre-amps that the dedicated interfaces offer, but make no mistake – that doesn't mean that your recordings will sound bad! Not at all – they'll sound just fine.
And if you play in a working band – a unit like this just doubles in its value because you can use it as a live mixer as well. And if that isn't enough, you can multi-track the band while you play which makes demo recording really simple.
So 16 or 18 channels of in for £370? Absolutely – they're absolutely worth considering.